Healthy Smiles Ontario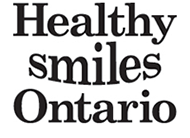 Healthy Smiles Ontario is a government-funded dental program that provides free preventive, routine, and emergency dental services for children and youth 17 years of age and younger.
Eligibility
Children and youth 17 and under may be eligible if they are residents of Ontario and members of a household that meets the income eligibility requirements.
Services
Dental services include:
Check-ups
Cleanings
Sealants
Fluoride treatments
X-rays
Fillings
Urgent or emergency oral health issues
If your child is in dental pain, contact your dental professional or the Dental Health Line at 905-688-8248 or 1-888-505-6074 ext. 7399.
How to Apply
Apply online at ontario.ca/healthysmiles
Call ServiceOntario INFOline toll-free at 1-844-296-6306 (TTY toll-free at 1-800-387-5559)
Call Niagara Region Public Health Dental Health Line at 905-688-8248 or 1-888-505-6074 ext. 7399
Children 17 and under currently receiving care from Ontario Works, Temporary Care Assistance, Assistance for Children with Severe Disabilities or the Ontario Disabilities Support Program are still eligible for free dental services. They will be automatically moved into the new Healthy Smiles Ontario program.
Children and youth with other dental insurance coverage are no longer automatically excluded.