Regional Official Plan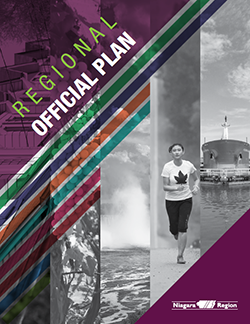 The Regional Official Plan is the long-range, community planning document that is used to guide the physical, economic and social development of the Regional Municipality of Niagara. Generally, it contains objectives, policies and mapping that implement the Regions approach to managing growth, growing the economy, protecting the natural environment, resources and agricultural land, and providing infrastructure.
The Regional Official Plan implements the Niagara Region Growth Management Strategy (Niagara 2031) and its content aligns with the Provincial Growth Plan for the Greater Golden Horseshoe, the Provincial Policy Statement and the Greenbelt Plan.
Consolidated Official Plan for August 2015
Regional Official Plan Schedules
To request information in a different format, contact us.
Five Year Review of the Regional Official Plan - Imagine Niagara
Section 26 of the Planning Act requires that Niagara Region update its Official Plan every five years to ensure it aligns with Provincial plans and policy statements, and matters of Provincial interest. The required Five Year Review of the Regional Plan was initiated in 2013 under the project name "Imagine Niagara".
A review of aggregate resource policies is underway to ensure they align with provincial policies and plans.
Visit the Imagine Niagara project page to learn more about Imagine Niagara and be a part of the process.
Amendments to the Plan
The Regional Plan is amended from time to time to update policies and mapping, and to facilitate individual development applications.
Visit the Regional Official Plan Amendments page to see a list of recent and ongoing amendments to the plan.
Download the Application to Amend the Niagara Region Official Plan if you are interested in amending the Regional Plan, and contact:
Planning and Development Services Department
Sir Isaac Brock Way
Thorold ON L2V 4T7
905-980-6000
Email the Planning and Development Services Department