Decew Water Treatment Plant - Class Environmental Assessment Notice of Commencement
DeCew Falls Water Treatment Plant (WTP)
Process Waste Pumping Station and Forcemain
City of Thorold / City of St. Catharines
The Regional Municipality of Niagara (the Region) is initiating a Municipal Class Environmental Assessment (Class EA) study (Schedule B) for the DeCew Falls Water Treatment Plant (WTP). The water treatment process at the DeCew Falls WTP includes screening, coagulation, flocculation, sedimentation, filtration, and disinfection. Currently, process waste sludge collected from the flocculation and settling tanks, filter backwash water, and filter-to-waste residuals are hauled by tanker truck to the Region's Garner Road Biosolids Storage Facility in Niagara Falls. The current practice of hauling this process waste has significant operational impacts during seasonal maintenance of the plant's process tanks. The purpose of this study is to determine a more cost effective and sustainable approach to the management and disposal of process waste from the DeCew Falls WTP by way of a pumping station and forcemain.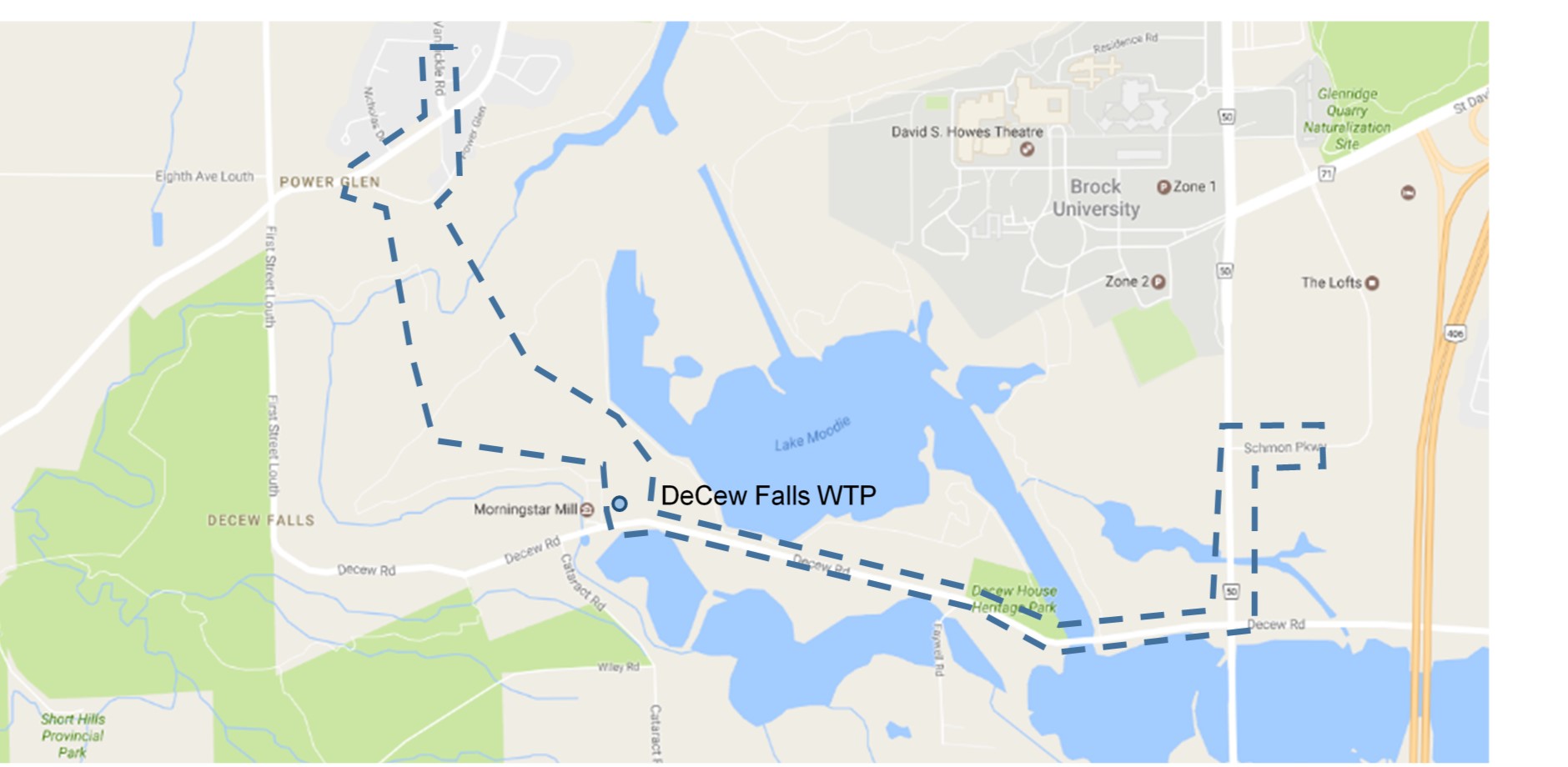 As part of the Class EA planning process, this project is being planned in accordance with the Schedule B requirements of the Municipal Engineers Association Class Environmental Assessment document (Oct. 2000, as amended in 2007, 2011 & 2015).
Public input and comment are invited for incorporation into the planning and design of this project. To help facilitate public input, there will be a Public Information Centre, to be announced at a later date in the local newspapers and on the Region's website. Comments received from the public will be considered in the preparation of a Project File.
For further information on this project, contact:
Gino Giancola, Project Manager
Niagara Region, Water and Wastewater Services
3501 Schmon Parkway, P.O. Box 1042
Thorold, ON L2V 4T7
905-980-6000 ext. 3735 or fax: 905-685-5205
Email: gino.giancola@niagararegion.ca
Mark Belanger, Project Manager
Associated Engineering
110A Hannover Drive, Suite 208
St. Catharines, Ontario L2W 1A4
905-346-0990 ext. 214 or fax: 905-346-0992
Email: belangerm@ae.ca
​