Quit Smoking Workshops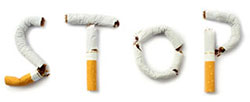 The Smoking Treatment for Ontario Patients Program (STOP) offers eligible participants in Niagara five weeks of cost-free nicotine replacement therapy and smoking cessation information to help them in their quit attempt.
Eligible participants will:
Attend an educational session
Receive a five-week course of nicotine patches
Workshop Dates
Grimsby
June 22, 2017
6 - 9 p.m.
Call to Register
Call 905-688-8248 ext. 7240 to find out if you are eligible and to register for a workshop.
For additional help with quitting smoking, order our free quit smoking kit.