Development Services
Providing development services that guide healthy, safe, livable communities and protect our natural and built assets.
Development Services provides comments, analysis and approvals on a variety of development related planning applications and policies.
This division implements Provincial and Regional policies that guide growth and manage the use of land within Niagara.
Development Services is also responsible for coordinating and developing the Regional position on all development related planning applications circulated by the 12 area municipalities.
Contact Us
905-980-6000
Toll-free: 1-800-263-7215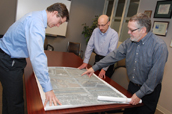 Recent Projects